Sterling Minerals Beauty News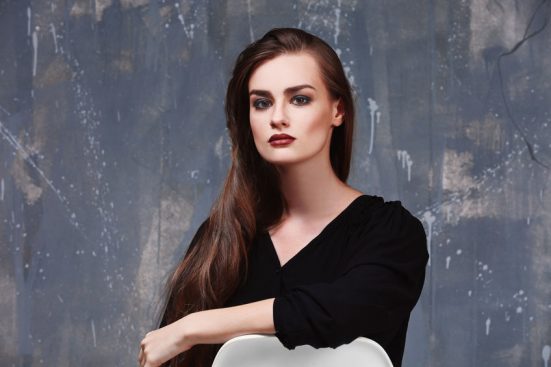 Following Makeup Trends
I obviously keep a watch on makeup trends to make sure I offer nice colors for shading your mineral makeup over and above your foundation. But when observing what others are doing, I also am careful to not take the suggestions literally.
Does a makeup trend mean you should follow it? Let's see!
Just because something is trendy in the new year doesn't mean it will work for you so it is just as important to be aware this is not a one size fits all. Unfortunately, it is portrayed that this new fashion or makeup trend is the "bees knees" or "cat's meow" and you should follow it if you want to look your best.
Matte or Dewy Glow Makeup Finish
If you can believe it, I have found conflicting opinions from designers and makeup artists suggesting both finishes for this year in 2019. They present one or the other as the "comeback" of a particular makeup finish.
Which one is correct? Does it get you confused?
They stand in stark contrast to one another and doesn't consider the age of the consumer, since a matte foundation shade is a classic and easily worn by a young woman or teen. This works when skin is plump and full of collagen and will look beautiful and could still work well on mature skin that is extremely oily.
As a woman matures then the dewy or polished look is a much better choice helping with light refraction since this assists with bouncing light away from the fine lines. A matte finish will lend itself to a chalky look and will definitely age the complexion that has less collagen or fullness to the face while causing excessive dryness.
So, this makeup trend is completely subjective to the consumers age and skin type which is not addressed in the new popular looks. Sometimes things identified as a makeup trend is not practical in real world demographics and should be taken with a grain of salt. But with that being said, great ideas come from these makeup trends.
Eye Shadow and Eyeliner
Here again I see ideas and makeup trends that are based on opinion or an ideal that is favored over another.
Some trends for this year announce going softer with eye shadow shades, preferably leaning toward muted pastels including coral pinks and purples. I agree these are beautiful, especially when dealing with a mature face. This type of shading is awesome for taking years off of your complexion and should also includes similar shading in blush.
Then in another opinion on eye shaping trends, they try and convince you going with a stronger eye lining method to define your eyes.
Of course, I recognize once more there is no reference to the age or shape of the eyes. Do you have small eyes, large eyes, droopy eyes or narrow eyes? The one exception to age would be matte or shades with some shimmer or polished sheen. Since matte shades also age the eye area, I recommend a touch of pearl sheen or shimmer, not to be confused with glitter or sparkle.
How You Would Decide
So based on the question of eye shape and not age, this trend is moot and should be more about how your eyes are shaped and how they are set on your face. Eye shadow used with proper technique can beautify the eye and reshape it to what you want.
Example; a woman with small eyes will make them look smaller using dark shading and / or eye lining the entire shape of the eye. So much for this trend!
Lighter shades and using a softer eyeliner on the upper lid only while highlighting the brow and inner corner of the eye will actually open the eye, making them appear larger and give a wide-awake appearance.
Now take a woman with large eyes or high browbone, she may want to make her eyes more defined or make her brow not look so high. In either case she would go with deeper shades and stay away from highlighting shades to reduce the height of her browbone while enhancing her beautiful large eyes.
I certainly would love some of that magic that gives me the larger doe eyed look with high browbone, but alas I am the way I am, so with a bit of effort in color design, this works to shape my look.
Lip Style in Color and Finish
I've already touched on the Matte finish vs Gloss finish depending on your age in my article "Create the Perfect Youthful Pout", but regardless of how I explained it, there is yet again two camps on the subject.
If you missed it and rather than recap, you can read and see how certain finishes will either age the lips or make them look quite youthful. Finish and certain colors will also either shrink your lip size or make them appear fuller, and depending on what you choose in finishes, they can either add to or takeaway years off your complexion.
When it comes to lip color however, this is a trend I enjoy following. In keeping with the recommendations on shading with eye shadows, especially for spring and summer, a certain lip color palette is what I created for the new launch of shades coming out next month. I am still offering traditional and soft tones for youth and vitality, while adding some fun and flair to the new lip colors. I never get bored with creative color!
You'll be able to enjoy a color range in a variety of natural-looking blush nudes to deeper jewel tones. But I didn't stop there since I also included a bright coral pink and subtle beachy tannish peach shade as well. This should offer plenty to pick from for your new beautiful makeup trend for 2019.
Reality of Makeup Trends
Makeup trends are great as suggestions and go a long way to create your new look, but don't hold them as truth or something you necessarily need to follow to look your best. Go with what continues to work for your type of fashion and love of color yet assess your colors during seasonal changes or as you age. Once in a while you might want to reevaluate and change things up to get the best possible ageless look you can achieve.
Happy Spring and we'll visit again next week.