Sterling Minerals Beauty News
My Favorite Organic Soap
Love Chagrin Valley Soaps, How May I Count The Ways
If you're like me, your days can be so busy that you neglect yourself or can't find the time to seek out a new favorite cosmetic after your old one may have gone bye bye. Yep the search begins again!
In my busy day to day life, I, like you, search out the best product that is best for my body care and when I find it, it's time to share my discovery. Even though there is my ONATI skin care brand, I don't offer a soap bar or cleanser for the body. For me personally, my preference is a great bar of soap and believe me when I tell you, I have tried my share of exceptional soaps, yet sadly some marginal brands also that didn't do my skin any favors.
Natural and organic are always my preference along with finding a soap bar that lasts a decent amount of time with every day use. This soap I found and have used over the past several years, took me awhile to determine if this was going to be my new love for this particular bar soap brand.
Yep… they are the real deal! They are not glycerin bars or melt and pours, or heavily perfumed body bars, which are not actually real soap because they are filled with all sorts of synthetic ingredients, while Chagrin soaps are the best in saponified ingredients creating a nice hard, glycerin rich, long lasting bar of skin loving soap.
Chagrin Valley Soaps is the brand I love and is still my favorite to this day!
What makes Chagrin Valley Soaps my ideal soap bar
Love they are USDA Certified Organic
Only deal in fair trade ingredients
No matter the skin condition they have the soap (super variety)
Their size bars of soap (5.8oz). Other natural brands (4oz)
They are long lasting when stored out of stream of water
Yummy aromas and they feel wonderful on the skin
Great creamy lather that doesn't dry out the skin or leave a weird film
Rich in skin nourishing organic butters, oils, herbals and essential oils
Family owned and operated adds to the excellent care and conscience they bring to their customers
My Sweet Favorite Is Chocolate and Honey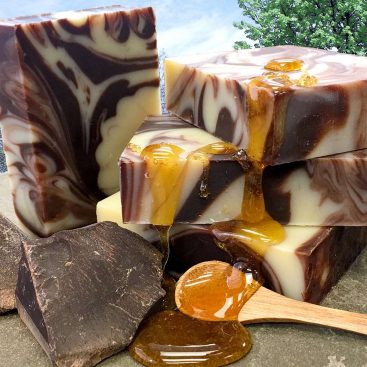 This is by far the one I love most and is my 'go to' organic body soap out of at least a dozen soaps I have tried. The chocolate smells positively delicious and its lather is so rich and creamy that I always make sure I stock up on this soap bar whenever I reorder. I can see why this is one of their best sellers.
From the Chagrin Valley Website:
Organic coconut milk creates a silky, rich, and creamy conditioning lather. If you love chocolate, you will love this ultimate moisturizing soap enriched with natural skin conditioning unrefined cocoa butter and swirled with raw cocao powder and real dark chocolate.
We use only real organic fair-trade chocolate, cocao powder and cocoa butter from the Theobroma cacao tree. The word Theobroma means "food of the gods."
Organic coconut milk creates a silky, rich, and creamy conditioning lather taken from their website:
The antioxidants and phytonutrients in chocolate soothe and soften skin
Organic Cocoa and Shea butters soften and moisturize dry skin
Organic honey hydrates moisturizes and soothes
Whipped cream-like lather leaves skin feeling soft and smooth
No added scent–just the delicious natural aroma of cocoa butter
Good for the complexion and sensitive skin
My Second Favorite Is Chamomile and Calendula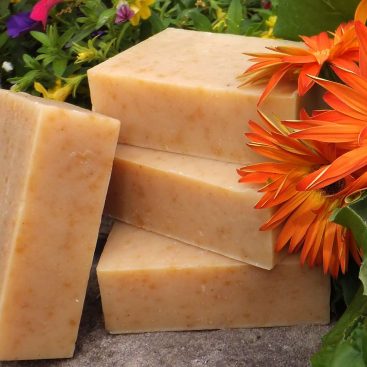 The subtle scent of this herbal blend is only a small part of why I love it. It is a very hard bar of soap and outlasts many of the other ones I have used. You know the ones; they melt away rapidly with each use and the soap surface is really soft. Not only are you getting the smaller size in other organic brands, you pay similar prices for receiving an inferior product. Not with Chagrin soaps! The lather is rich and creamy and non-drying in this bar of soap. I'm never disappointed by how skin soothing it is with the ingredients they add to fight many skin issues some of us have. Dryness or irritation is never an issue. LOVE, LOVE, LOVE …
From Chagrin Valley Soaps Website:
A rich, moisturizing soap made with skin soothing and healing organic herbs that may help bring relief from skin irritation and itching caused by eczema, psoriasis.
Herbalists consider Calendula one of the most effective herbal remedies for irritated skin conditions.
Chamomile can ease the itching of eczema and other rashes and helps reduce skin inflammation.
Chickweed helps soothe the itch of healing skin, stings, and bites.
Turmeric has anti-inflammatory and healing properties that may help ease the symptoms of rosacea. Rich in antioxidants, turmeric is a common ingredient in Ayurvedic skin care products to naturally promote glowing, smooth skin.
The natural golden yellow color is the result of the calendula infused oils and turmeric
Turmeric is revered in Ayurvedic medicine for its ability to relieve inflammation
Enriched with unrefined virgin shea butter and hydrating honey
Honey moisturizes and soothes skin
Feel Good Ingredients and Safe For Most Skin Types
Now that my search is over since I had to look elsewhere after a company I truly loved, closed their doors a few years back. You know what that is like when you find something that truly works so well, only to have them discontinue your favorite or they closeup shop all together. It's a bummer!
Fortunately, Chagrin Valley Soaps is committed and dedicated to carrying on their tradition of being a family owned and operated soap making business. Keeping their focus on sourcing the best ingredients for bringing the ultimate in natural, organic body care. Check them out for yourself, and to make sure your skin will love them without any problems and to do that, they offer sample size to determine what works best for you.
I am a customer for life… You can be too!
Have a great day and catch you later!