Sterling Minerals Beauty News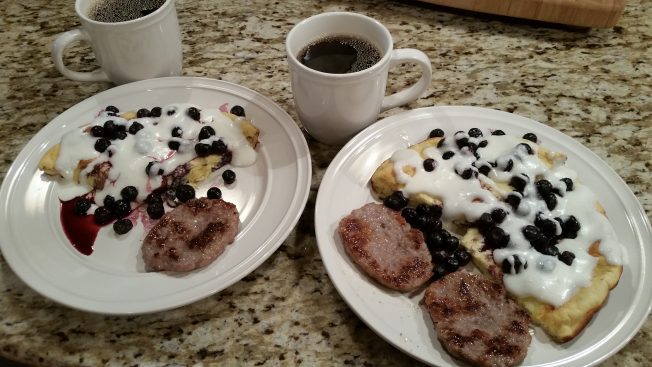 Guess What? I Am Very Excited About Keto
Don't care about Keto or what I discovered, then skip down to the yummy recipe and recommendations I have for you.
Recently, I began utilizing a lazy Keto program to improve my health. I have lost 13 lbs. in the last couple of months eating 15 percent carbs, 20 percent protein, and 65 percent fat. Not as strict as it can be, but it works for me.
Initially, it was tough duty to figure it out and not feel like I was starving to death. Giving up bread… egad… thought I was going to die. Sugar… omg… another craving that was literally killing me.
Elevated insulin in my body was not helping with taking off my weight and I felt like garbage. The body aches, headaches, exhaustion and incredible cravings were becoming a weight around my neck, literally.
Getting Over The Hump
Once I got through the first 2 weeks, it became much easier. Another program I incorporated was intermittent fasting, where I don't eat for 16 hours and only eat within an 8-hour window. Relearning how to eat correctly was initially challenging, but I don't experience hunger anymore. My body craves this new lifestyle now.
My doctor also has me on 1200 calories per day and I don't even feel deprived. Who would have thought that cutting out carbs would not create unstoppable cravings? But flours like almond and coconut are fantastic and nourishing replacements. The higher fat also is so decadent, I miss nothing in my diet.
Menopause betrayed my body and it only adds to the struggle, so I knew that had to change. No more procrastination… just did it! My health improved and I feel so much better overall with minimal exercise… not a fan these days but do it to keep from feeling old. What is it they say?… "a body in motion, stays in motion."
I highly recommend Dr. Fung's book, "The Obesity Code". He shows the science of what has been a way of eating for decades. This is not new science, but old science getting renewed under growing research of insulin resistance including dealing with type 2 diabetes. Any thought of this just being another fad diet was quickly dismissed once I read his book.
What Has This To Do With Beauty News?
Well it doesn't directly, but when something excites me no matter what it is, I can't wait to share it with you. Eating well helps keep you feeling and looking beautiful when you feed your body the right way.
I am someone who has struggled with weight loss the past 10 years and this was a miracle for me to finally budge the scale. Working out along with all kinds of confusing ways to eat on the internet, may have kept me sustained, but not a single pound dropped. It is a sure bet you may have a friend or family member, or maybe you too are having similar struggles, so here I am chatting you up about my success on this program.
Okay Enough Already, Let's Get To The Delicious Recipe
Whether you do Keto or not, this is a recipe anyone can LOVE! Makes me look forward to Saturday mornings to go with my cup of Joe.
Oh… by the way, this is a coffee brand that is oh so delicious.  Got it at my local Costco, but now I buy it directly from the company because as usual, Costco stopped carrying it. The brand is Mt. Comfort Coffee, and I love the Peru blend.  It is a medium roast and has nutty, citrus, chocolate notes… yum.
If you purchase it from their website it is the same price as Costco and you receive free shipping over $20.00. What a deal! Next time I order I am going to try their Costa Rica Blend. Their 2.5 lb bag is the most economical, but trust me, it doesn't last long if you are a coffee lover like I am.
This recipe is super easy to prepare! If you love sweet lemon and a light and fluffy German style pancake with blueberries and heavy cream, this will surely put a smile on your face when eating this wonderful comfort food. Let's get started!
Faux German Style Lemon Pancake Recipe (serves 4)
What You'll Need!
Preheat oven to 425 degrees 10-inch Skillet
Ingredients
2 tablespoon Butter
¼ cup Ricotta Cheese
4 large Eggs
¼ cup Water
¼ cup Heavy Cream
2 tablespoons Coconut Flour
2 tablespoons Swerve or So Nourished Sweetener Powdered
½ tsp. Vanilla extract
1 tsp. Lemon extract
½ tsp. Salt
Pancake Topping Recipe
¼ cup Heavy Cream
1/8 cup Lemon Juice
2-3 tablespoons Swerve or So Nourished Sweetener (to taste)
1 cup Frozen Blueberries thawed and warmed in microwave
Approximately 175 Calories per serving
Let's Get To Mixing
You'll need a hand mixer, or a Kitchen-Aid stand mixer to get a smooth mix with no lumps. Place the butter in your skillet and set aside while your oven preheats.
Mix together the eggs, ricotta cheese, water, cream, coconut flour, sweetener, salt, vanilla and lemon extract. Continue to beat until smooth texture is accomplished. The batter will be thin and runny, not like a typical batter. Don't try to thicken it up or the pancake will not do its German style thing.
Once your oven reaches temperature put the skillet with the butter into the oven to preheat the skillet and melt the butter. Usually takes about 5 minutes.
Remove the skillet once butter is melted and swirl the melted butter to cover the entire pan area. Set it down on your stove top, then slowly pour the batter in the center of the pan to push the butter to the outer edge of the batter. Don't worry if some of the butter overlaps the batter, but you want to try to keep it away from the center of the batter for best finish. This happens if you pour too fast. I know, I have done it and you won't get the German style pancake.
Carefully lift the skillet and place on the center rack of the oven and set timer for 15 minutes.
Let's Make Our Yummy Cream Sauce

While the pancake is baking, let's make the topping. Hand mix with a whisk in small bowl the heavy cream, lemon juice and sweetener until nice and smooth and sweeten with the guidelines above or to your liking. Set aside until Pancake is done baking.
After your timer dings, judge the look of the pancake. It will be blowing up like a balloon and you want the outer edges to be looking golden brown. If they aren't then let it stay in another minute or two while keeping an eye on it because it will golden up very quickly at this point.
Remove from oven and it will settle down as it begins cool and resembles the German pancake we love. This is what it should look like out of the oven.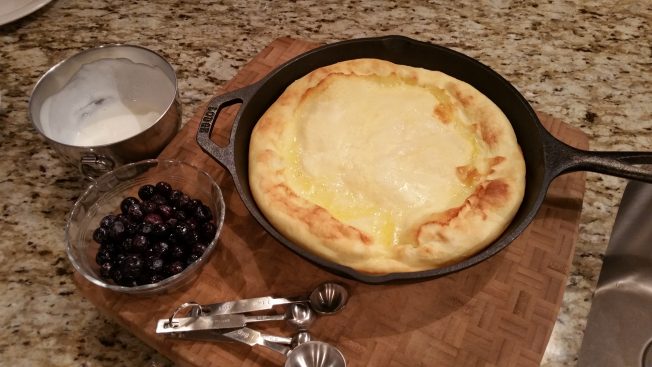 Once it has deflated, cut into fourths and serve with the blueberries and cream mixture over the top. Serve with sausage or any other side dish you prefer. Super Keto friendly and did I say it is the bomb? But and big but it is, if it is just you and hubby, treat yourself with extra. My hubby and I split it into thirds. I get a one third and he takes the rest. This is our weekend favorite.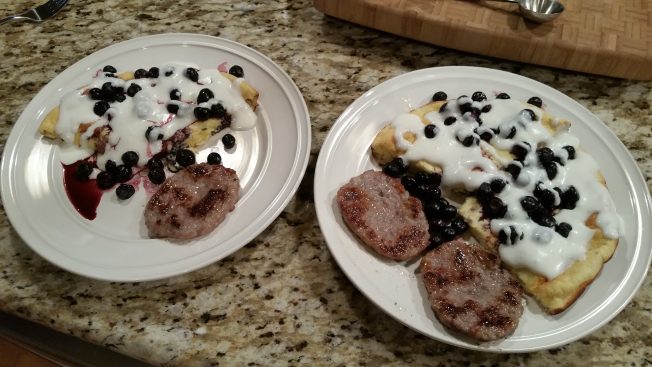 Where To Find Some Of This Stuff And Best Tips
First let me state there is no affiliation with any of the items I recommend. This is my actual experience and my personal purchases I have made.
I found Swerve at Walmart, but I found the taste a bit odd.  It was good but I found I liked SoNourished Powdered sweetener best.  The powdered version can be used universally, I discovered.  When purchasing, you won't need different versions, such as granular or brown sugar.  That is a big money saver since these natural sweeteners are pretty spendy, but oh so worth it. Not only does this type of sweetener not spike your insulin but it also doesn't leave that weird aftertaste in your mouth like Stevia.
The only place to find it is on Amazon or directly on their website. It has the same sugar swap teaspoon to teaspoon, and it is not sickly sweet. This version of SoNourished is also Erythritol and Monk fruit blend and it is just right! Erythritol on its own is not sweet enough in a like for like sugar exchange.
I found my 10-inch skillet at Walmart and they had the best price and selection.
Dr. Fung's book I also purchased on Amazon and does an excellent job of explaining how your body functions and responds to food and sugar. Very interesting read! Not boring yet is super at laying out all the facts and research and is not just another diet book or opinion.
Until next week and I hope you enjoy your coffee and goodies.