Sterling Minerals Beauty News
Does Coconut Oil Cause Acne or Make Acne Worse?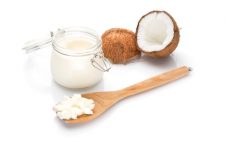 Coconut Oil and Acne Skin
Dealing with the information as to whether or not Coconut Oil causes acne or makes acne worse is a concern for those currently dealing with acne problems.
Why the confusion on Coconut Oil as it pertains to acne?  Could it be Coconut Oil is just misunderstood?  Some love it and claim it heals acne, while others hate it!   Is this ingredient in your skincare or makeup?