Mothers Day is rapidly approaching and for many they will be celebrating the joy and love with beloved mom's everywhere.  Mom's are great for cheering us on, picking us up and dusting us off, making lemonade out of lemons and showing us the way toward a better future, perhaps better than their own, always encouraging us to strive for the moon and stars.
We all love our moms for different reasons, but whatever the reason is, it will be very special in the heart of her child and the life they shared.  No matter our age, only how moms are perceived is what evolves over time.  From mom holding our hand as little girls, to us taking care of them through their senior years.
Some of us even have a similar relationship with a Grandma, a woman that puts the icing on top of everything we do.  We are spoiled and pampered by our grandmas as though it is the assignment they have been given after raising the mother that raised us.
Grandmas have that special place in our hearts and with a simple hug, the outside world melts away.  Whatever the memories of these wonderful ladies who have loved and shared with us all things to make us better women, it is only fitting that Mothers Day was created just for them.
With Moms in mind, we would like to remind our wonderful ladies about our Gift Certificates we now offer, so picking and choosing what your mom would like is no longer an effort in futility, trying to decide what is best for the woman who has everything it seems.  A gift certificate is the most simple, perfect gift, and is the best way to introduce mom to mineral makeup and refreshing organic skincare.  Plus, it offers her the opportunity to try something new and fun without the headache of walking the mall floor.  They are located at the top of our website next to your account sign in and wishlists, or you can CLICK HERE for previewing how to purchase and checkout.
Wishing moms everywhere a beautiful and happy Mothers Day.  And remember, someday WE WILL all eventually quote our mother!

Safety In Mineral Makeup Containing Rice Powder 
We have espoused the skin healthy benefits Rice Powder (Oryza Sativa) offers the user when applied to the skin in the form of a face powder or a facial mask.  And it continues to be a safe ingredient in our mineral makeup products.  The latest news hype has not altered our opinion as to the safety of our rice starch being used in our cosmetics, and unfortunately for the most part it has been completely overblown and nondescript in the rice sources mainly effected, instead the hype proclaims it must be all rice products regardless of growth location and finished, refined ingredient.
We realize that there are many out there, including the main stream media, that wish to raise the alarm bells this past year about arsenic being found in commercially grown rice products, mainly baby food products.  And of course more confusion ensues among the populace.  However, before we get into specifics, we wish to remind those that have this unfounded concern as it relates to cosmetic products using rice powder, is that something applied to the skin does not extrapolate same as to something we ingest.  Plus, rice syrups, rice bran oil, rice bran, brown rice, etc, are found containing higher trace levels of arsenic due to minimal processing.  White rice, even in it's solid grain state before continuing onto processing for a fine cosmetic powder, is brown rice milled  to remove the husk, bran, and germ which contains the trace elements of contaminants, minerals and vitamins.
Rice powder in cosmetics has gone through such extensive processing, once completely modified for the use of cosmetics, the majority of all trace contaminants, not just arsenic have been removed from the finished powder.  Furthermore, our Rice powder is not grown or processed here in the U.S. but from a nation in the European Union, where as we all know, their regulations against pesticides and trace constituents in ingredients are far more stringent than ours.  So as far as continuing to use it as a surface treatment on the skin, please continue to do so with confidence.
Now The Brief Facts About Rice As A Whole
Not wishing to elaborate beyond basic information since Google can provide a whole bevy of articles, typically over inflated, with a just a few articles explaining actual scientific research hoping to quell overblown media reporting.  Here is a synopsis of the situation.
Arsenic is divided into 2 broad categories: Organic arsenic and inorganic arsenic.  Organic arsenic is essentially harmless and is ubiquitous in our environment.  Inorganic is created through use of different pesticides.  And higher trace levels of inorganic or organic arsenic, depending on where it is grown, are found in brown rice rather than in white rice, since white rice is essentially brown rice, stripped.
The FDA, the European Food Safety Authority, the United Nations Codex Alimentarious Commission and China's Food Safety Commission are trying to establish limits for inorganic arsenic in foods, including rice.  China has a maximum level for total arsenic in rice of 0.4 microgram per kilogram.  Note this is addressing foodstuffs!
Plants accumulate organic arsenic because it protects them from harmful micro-organisms, especially fungi.  Rice isn't unique in this.
"All plants pick up arsenic," states John M. Duxbury, PhD, a professor of soil science and international agriculture at Cornell University in Ithaca, N.Y.  "Concentrations in leaves of plants are much higher than in grains of plants.  Thus, leafy vegetables can contain higher levels of arsenic than rice, especially when they are grown on arsenic-contaminated soils."
So the statement of fact is: though they are measuring arsenic levels in food products reflected in these statements, the reminder is, ingestion is not the same as topical application in any context.  Plus through critical thinking we must acknowledge all food, including our healthy, leafy greens, contain some measure of this contaminant making consumption literally impossible to avoid.  Yet, the many proven health benefits we get from consuming fruits and vegetables watered and grown in any soil can far outweigh trace amounts of any contaminant found within the plant itself.
Answer:  There are as many answers to this question as there are symptoms of acne.   The short answer; it is an excess of oil on the face, whether it be through natural oil production or from adding oily products to the face which tend to be too heavy for the skin, whereby resulting in these benign breakouts.  They don't actually turn into a true pimple but the skin just feels bumpy all over as though you are about to have a major outbreak, but never do.  They just kind of sit there and then finally recede.
This is not acne in the sense of the word as we know it, but a reaction within the skin rebelling against saturation of too much product, basically plugging pores.  Skincare products should never smother skin or create an oily after feel past 5 – 15 minutes.  If your skin still feels oily after this, then you'll know you are using too much product.
Another reason for this symptom, is when we use straight oils on our skin to moisturize.  This will tend to always be too much for the skin.  Oils and butters are always best used in a skin cream where the proper balance has been created for maximum skin absorption without over saturation of the skin.  Benefits are lost when one thinks that the individual ingredient is better since it is pure and without compromise to other ingredients.
Unfortunately, an imbalance can be created on the skin when utilizing moisturizing in this manner.  Synergistic blends of skin creams and cleansers are created to perform perfectly in tune with the pH and oil balance of the skin by controlling sebum and soothing and moisturizing skin adequately and correctly.  This is the concept behind our ONATI Skin Care Products.
NOTE:  This can also happen when changing products which results in oil and pH changes on the face.  When changing a regimen if you are prone to acne, make sure that you give the new regimen 4-6 months to allow skin to balance and correct itself.  And as always, when concerned, be sure to see a dermatologist since it can be other benign conditions such as milia or keratosis pilaris
Skincare Note:  Also, don't forget facial masks can be quite soothing and beneficial to the skin while enduring a process change.  Stick with gentle natural face masks that you can create yourself since many over the counter masks can be drying an overly harsh to skin, plus they use many other synthetic chemicals skin doesn't need.  Here are some nice gentle facial masque recipes for all different skin types which also aid with exfoliation from our Sterling Minerals Skin Care Guide.
Hello Katherine:
I spoke with you about two weeks ago about my problem with all blushes and some makeup turning "orange" on me.  You suggested the Onati Skin Care.  Just wanted to tell you that I've used it for one week now and absolutely love it! Nothing feels heavy or greasy on me and I am even using the Calm and Refresh Face Cream during the day.  You would never know that my skin is very oily.  Bought a sample of the Grecian Body Soufflé and use that at night.  After spending hundreds of dollars trying numerous skin care lines, I have finally found the best for me.
Also, just received my samples of your foundation.  You had suggested Vivana and Hannah. Tried Vivana (Dewy) this morning using the dry method and it just looks like my skin but better.  Going to try Hannah tomorrow, although it appears to be darker.  I got all samples in both the Dewy and the Velvet.  I also ordered Amara based upon the description on website but it looks way too gold/yellow for me, but I will try it also.  Also bought a sample of the Satin Rose Mineral Veil.
Also ordered the blushes that were recommended on your website for skin that turns orange.  The Lilac is extremely light, so I'm not sure about that.  The Vintage is pretty but still light, but a very pretty color when I apply more.  The other three I have not tried because I think it best to try it when using your foundation. (Lilac was used on my Bare Minerals).
I feel like a kid in a candy store trying all my new makeup!  Anxious to try your eye colors too!
Well, just wanted to let you know my experience so far.  Have a good day.
Sylvia B.
Kent, Ohio
Where The Heck Is The Eye Liner?
Many women have asked us if we will be offering eye liner pencils to our mineral makeup repertoire.  And the answer is, they really are not necessary.  This may seem odd that we would say this, especially for ladies new to the mineral makeup world, and are used to the conventional methods of eye color.  But the reason is, our mineral eye color comes in deeper, richer shades that also doubles as an eyeliner.  However, not to be confused with liquid eyeliner since this is a completely different application and the look is not 100% similar to pencils.  One can get close to it, but it won't have that exact effect of liquid eyeliner.
How You May Ask?
When you are researching a particular shade, especially those with a deeper tone, the pigment is extremely rich and intense.  An example is our lustrous eye shadow shade, RAVEN.  This is a deep blue black and works extremely well as an eye liner.  Plus any of our shades that are deeper in tone in these categories of, browns, reds, blues, deeper shades and greens, all can be used to frame the eye for any look you wish to achieve.
Not to slight all of our other shades however, since it is also fun to use a multi-shading on the eyes by mixing more than one color to complete a framed eye.
Beauty Tip:  Take a small dot of your preferred mineral eyeshadow shade and dampen the tips of one of our makeup brushes used for this task with distilled water.  The best ones to use are our SLANT or our LINE and SMUDGE.  Then dip the damp brush into the color and create the eye line you desire.  As the line dries you can even begin to smudge it a bit for more of a smoky look.  The staying power is quite remarkable.
Test It:  If one is skeptical, test it on the inside of your forearm or the back of your hand.  Allow to fully dry and then attempt to wipe if off with your fingers.  You'll see it will pretty much require water and cleanser to remove the pigment.
So again, we offer a time saving and money saving way to increase your mineral makeup repertoire by our minerals performing double duty for multiple tasks, whereby requiring fewer products.
Enjoy!
Hello Everyone,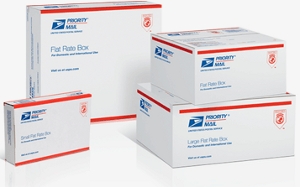 We wanted to bring you current on the latest  USPS shipping rates.
USPS has increased shipping rates across the board as of today.  We knew it was coming, however we had no idea on the details of the increases and what features would be added or eliminated.
Despite the increases, minor for domestic, greater for international shipments, there is a bright spot for those that used to select the "uninsured international flat rate box" option to save some money on costs.
USPS has recreated this to now offer tracking capability, yet this method is still uninsured.  Although the rate is higher to choose this selection, it now comes with delivery confirmation so smaller orders can now be located easier.   And with the tracking number, your package can be readily viewed online to see where your package is at any given time, including checking to see if  there had been a delivery attempt that you may have missed.
We also still offer the special rate for international shipments when meeting the required dollar total so we may continue to assist you with some of these shipping costs.
Even though all of us are faced with the rising cost of freight across the board these days, we have found that USPS still provides the quickest and best service over all other shippers for you to receive your products ASAP.  To receive similar rates with other shippers, we are looking at longer ship times for more money.  To even get close to the USPS rate you would have on average a week wait plus processing time, since it would have to go via ground and there is zero savings to you.
We always strive for the best in all customer service, mineral makeup and skincare products, including offering the best method to get you your products safely and without delays.
Thank you so much for your loyal patronage and understanding this is beyond our control.
For more information, please visit our Shipping Policy Page for the updates and rates now being offered.
Craving Those Dewy Cheeks?
Mineral makeup with all of its wonderful diversity makes changing up a look as easy as pie.  Many mature ladies, like their younger counterparts, still wish to refresh their appearance on a regular basis.  Mineral makeup allows them to do this more than any other type of makeup on the market.
Those that are quite familiar with our products, know that the moist method of application gives the best look of freshly polished skin.  Including the use of one of our perfect organic moisturizers for the ultimate in a flawless finish.
The Task Made Simple With Eye Color
For those that haven't discovered this neat trick, some of our eye colors work wonders as all over face colors or as a boost to cheeks over their natural mineral makeup blush choice.
Next time you come in for a looksie at our eye colors, check out the descriptions for what else they can be used for.  It takes only a tiny smattering of eye color on the tips of the brush placed perfectly on the cheek area, whether it is cheek bone or the apple to give them that added subtle, luminous glow.  Never shiny or oily looking!
Once placed, then gently sweep over the areas you wish to cover, and you will instantly see a lovely dewy sheen.  If you select a shade with more sparkle, this can be countered by moist misting once applied, followed by a light sweeping of the brush to lay the Mica platelets flat against the skin.  So the sparkle is reduced and only a nice increased polished finish remains.
Just remember, some of the added sparkle as a face color really makes for a lovely complexion for an evening out on the town when visiting poorly lit venues.   Play with minerals in every way possible.  You simply can't go wrong when using them since they are the most forgiving form of makeup available.
Experimentation has never been more fun and easy!