Answer: It is always recommended for the best results, to use an excellent silicone free moisturizer and its derivatives (dimethicone, cyclomethicone), before applying our mineral makeup.  And you never need to wait until it is completely absorbed like with all other mineral makeup brands on the market.  In just minutes, the time it takes to brush your teeth, you can begin putting on your mineral powders because our botanical ingredients combined with the minerals in our unique formulas is what makes it possible to do this, and sets us apart from other companies.
Most mineral makeup which is high in mica and bismuth oxychloride, make it impossible to apply right after a moisturizer, with typically a waiting period of about 15 minutes, since they will stick and cause a blotchy appearance, requiring a lot of excessive buffing to blend out the mineral powders.
We use very little mica, NO bismuth oxychloride and it is the reason for simple application without a caked appearance even if you get too much on the brush or face.  It is the goof proof mineral makeup.
The reason it is not recommended to mix our mineral cosmetics directly into your favorite moisturizer, is due to the ingredient profile of our mineral foundation.  As with others, Mica, bismuth oxychloride and the main minerals, titanium dioxide and zinc oxide, a typical formulation of many mineral cosmetic brands, are not absorbent and offer no oil or moisture control.  It is why with these minerals, this type of formula can be mixed easily into a moisturizer and is also the main reason women experience "melt out" by days' end or requires many touch ups throughout their day.  They basically become nothing more than a colorant to the moisturizing cream, much like a liquid foundation.
Our mineral makeup because of the rice powder, boron nitride and in two of our formulas, the addition of kaolin clay, cannot and should not be mixed into a moisturizing cream.  These three ingredients are designed for a smooth, soft, feel to the skin, oil and moisture control and to give skin a flawless, luminous, lasting finish.  Due to these functioning properties, mixing them directly into a face cream will cause them to absorb the moisture, making for a less than desirable application of mineral makeup.  Plus it would negate the benefit of our organic jojoba oil which is perfect for keeping skin wonderfully soft and pH balanced all day.
Applying them over your moisturizer however, will help them meld immediately to your skin, becoming one with your face, and provide the protection from actual trans-epidermal moisture loss throughout the day, never leaving skin feeling tight, dry or chalky looking.  Another reason why many women of mature years LOVE our cosmetics.  And because our minerals are so easy to apply, they can be placed on the skin in a single dip of the brush, making for fast and simple application.  In fact, it would take you longer to mix them into a cream than it would to moisturize and then apply our minerals.
Try our mineral makeup, and see if it is not the easiest you have ever used and has the most natural, long lasting finish compared to others you have tried.
Question Asked By:
Karola S.
Chicago, Illinois
Questions and Answers are edited for content
Answer: In most cases, "yes" our mineral powders do an excellent job at concealing scars.  As always we recommend using a lighter shade to correct the redness or neutralize the deepening of the skin pigment which accompanies scarring.
There is a small exception to complete coverage.  Scarring which may also have a severe indentation, may not cover as well, but the appearance will definitely be close to being hidden through reduction in redness and softening and blurring of the skin.
In rare instances, indented scarring, such as from some acne cases due to destruction of collagen, can be improved, but the reality is, short of caking with most other brands of makeup, liquid included, the concealment of the dimpling effect won't be perfect and may actually make them more noticeable due to the heaviness of the application.  Let alone the problems wearing heavy makeup can cause skin.
However, with our minerals, scars will definitely be less noticeable even by applying our minerals sparingly.  Heavy coverage of our mineral makeup can also be used to hide imperfections very well without an unnatural look or caking, while keeping skin soft and healthy.
One can achieve improved coverage also by applying with our "moist method" or by applying a small dab of Jojoba Oil, rubbed in well, followed by a light layer of minerals. Depending on the severity of the scar, continue to apply minerals until you reach the desired coverage.  Jojoba is not occlusive, so it is very safe to use on the face.  For severe scarring, then laser resurfacing may be the only recourse for achieving best results and something which should be discussed with your doctor.
Katherine, the owner of Sterling Minerals, just recently had a basal cell carcinoma removed from her temple and the minerals have done an excellent job at making her scar less than noticeable while also soothing the erythema which accompanied the now remaining scar tissue.  The appearance improves everyday, but while the healing process continues, the mineral makeup works wonders and no one ever knows the scar is there.  Coverage even works beautifully with our "Delicate" formula, the choice she uses daily for her cosmetic needs.  She demonstrates the coverage in the video below.
Using skin healthy, gentle makeup is the better choice overall, while giving skin soothing benefits which improve skin color and tone, providing a beautiful new "you" and allowing your natural beauty to shine.
If you are viewing this in email or RSS feed, please click on our YouTube Channel to view this video below.
Question Asked By:
Crystal S.
Boise, ID
Questions and Answers edited for content
Answer: No matter what your skin tone, always purchase a shade that closely matches your own natural undertones.  Many women have been advised by the commercial makeup industry for years to use another shade to change their natural color in order to correct it or any flaws associated with it, with the idea they are making themselves appear more beautiful.
Olive skin in particular has been pushed toward using shades with more reddish orange supposedly to change the sallow or ashen appearance and the fact that olive shades are pretty much non existent in commercial brands of makeup, or pink shades should be used to tone down yellow skin.
All these shades do is make skin look orange and pink and are not enhancing when they are not remotely close to ones' natural skin tone, plus the aging effect this causes to the finished look.  When Olive skin for example, is matched truly with an olive shade, the results are nothing short of gorgeous!
Mineral makeup foundation should only be used to even out and correct facial imperfections, tone down redness or too much yellow, while giving a nice flawless canvas to work with.  Love and live with your skins' natural undertones and overtones and compliment it through shading choices with mineral blush, bronzer, lip color and eye color, and always let your own natural beauty shine through.
Simple Advice: Think in practical terms; if you apply a mineral foundation that doesn't match your natural skin color, it won't improve it or really even change your undertone.  You will only appear to everyone around you, you have simply applied the wrong shade of mineral makeup, and then you are back to looking like you are wearing a mask.
Even with mineral makeup, you don't want your face to possess a line of demarcation between jaw line and neck by choosing the wrong color.  Another reason to always carry your blending technique all the way down onto the neck and / or to the decollete area if necessary.  Again, this is the primary reason to use mineral powders since they will provide you with an even skin tone, mirroring your natural undertones, while allowing "you" to shine through, only with more natural, healthy looking skin.
Learn more on how to Find The Right Foundation Shade.
Questions Asked By:
Hailey S.
Dublin, Ireland
Questions and Answers edited for content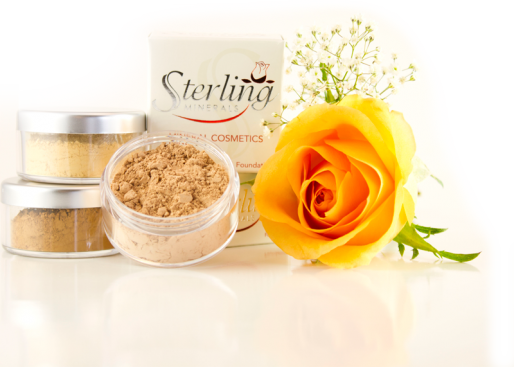 Answer: Absolutely never! Due to the composition of our mineral makeup foundation, they simply won't creep or glop on skin. Others heavy with Mica and / or Bismuth Oxychloride within the formulas are a strong contributing factor to that caked, fake look as though you are still wearing a mask.  Also the frustration which comes from having to buff excessively if you happen to get too much on at once which can result in causing undue irritation to delicate skin.
Katherine has purposely tried to cake them on her face, piling them on layer after layer and though the coverage gets heavy, they would not cake no matter how deliberate she was.
In fact she just completed her latest video on demonstrating this very point! For RSS or Email recipients go to Sterling Minerals YouTube Channel to view it there.
Question Asked By:
Corinne S.
Surrey, England, UK
Questions and Answers edited for content!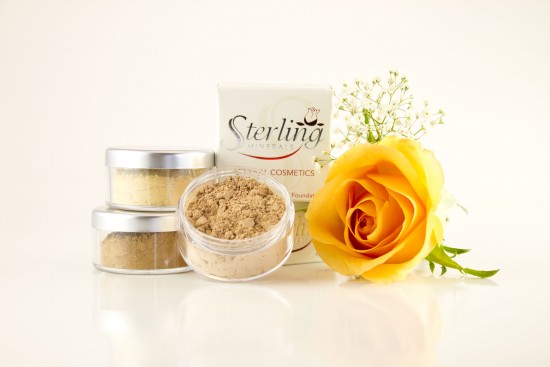 ANSWER: Bare Minerals is a very heavy mineral makeup due to it containing Bismuth Oxychloride.  So it requires the ongoing buffing you are used to doing to get it to blend well and to stay on the skin, otherwise it slips into fine lines and creeps throughout the day.
When using Sterling Minerals Foundation it does not require all that buffing action you are used to.  Since our minerals are uniquely different than most mineral makeup sold on the market today, you simply need to press and sweep with only slight buffing for blending into hair line and to give a nicely polished look to the skin.  Make sure your skin is always well moisturized also.
By using the old routine of endless buffing, women have found that instead of laying down our whisper light minerals they were actually buffing them right back off of the skin.  When applied correctly, coverage is excellent, the finish is impeccable and skin is flawless without caking or creeping into fine lines.  Make sure you choose the best formula suited for your skin type.  Also the moist method technique is another excellent way to get better coverage and to set your mineral makeup right away.
You can find great video tutorials by Katherine at her YouTube Channel.  She has quite a few for different applications of our products.  Or watch the featured video below on foundation application using the moist method.
Question Asked By:
Lorna R.
Baltimore, Maryland
Questions and Answers edited for content!